Music Project / Magnard Ensemble
"The message of tolerance and celebrating diversity is so important. The genius of Rob's story is how sensitively it is pitched to such a young age group. If any of the kids come away feeling positively about themselves or their differences even a miniscule amount I would be very happy."
The narration of children's books through music is a tale as old as time; from Prokofiev's 'Peter and the Wolf' to Julia Donaldson's 'The Gruffalo', instruments and song bring characters to life and create an immersive sound world where children can become a part of the story by singing, playing and dancing along. The rise of Disney added animation as an enticing visual dimension to musical books and modern technology has enhanced this further: in 2014 the National Orchestra of France extended their animated musical film of 'Peter and the Wolf' to an iPad app with interactive games. The immediate accessibility and creative potential of videos and apps is the future of multimedia books and enables their use as fun educational resources for schools and families.
One quintet passionate about multimedia music education is the Magnard Ensemble. Started in 2012, the professional wind quintet is formed of Cat (bassoon), Joe (clarinet), Jon (horn), Suzie (flute) and Mana (oboe). In 2016 they produced a narrated musical CD 'Revolting Rhymes and Marvellous Music' which is based on works by Roald Dahl. Their latest project is in collaboration with renowned children's author and illustrator Rob Biddulph and musically narrates his book 'Odd Dog Out'. The animated musical video brings to life Biddulph's heart-warming story of celebrating difference, featuring the author's original illustrations and a groovy soundtrack guaranteed to have you dancing along. The musicians are at the forefront of the show as they narrate the story, play the soundtrack and party alongside dozens of colourfully animated dachshunds. We interviewed the quintet on Zoom to chat about how the project came about, the practicalities of filming in lockdown and what advice they have for other musicians looking to collaborate with creatives.
How did the 'Odd Dog Out' project come about? Was it Magnard's idea or were you approached?
CAT
_
It absolutely came from us. For a long time we had wanted to do a new children's project and were looking for the right material to spark interest. We knew that we wanted to be intermingled with the story rather than accompanying it (as we were in the Roald Dahl project). I bought 'Odd Dog Out' for my nephews and thought "this is perfect!". It's a really gorgeous story with a lovely message and it has everything you need to make a musical adaptation: an emotional journey, a physical journey through different places and lots of scenes that you can paint in musical colours. The original plan from two years ago has changed massively because of coronavirus – we were going to do a live show which is hopefully still on the cards for the future. The video has been a completely different challenge but one where we are fully integrated. It's been a joy to use the author Rob's original illustrations and animate them. He has been an absolute gem from the start and gave us loads of creative freedom with the project.
It is amazing to have the musicians so at the forefront of a multimedia project and it really showcases the instruments to kids watching. What is your target age group for the video?
CAT
_
Nought to six years – definitely an early years audience. We envisioned it as lockdown entertainment for families at home.
Could you explain further about the creative process and who you collaborated with in making the video?
MANA
_
We narrate the story and are already confident speakers – whenever we give a recital we make sure that each one of us introduces a piece and engages the audience. We also don't mind being silly and making a fool of ourselves but knew that we needed someone with a clear creative vision. We came across the theatre director Poppy Burton-Morgan and they suggested making an animated video at the start of the first lockdown and have been very involved in the project. We collaborated with filmmaker Floyd C. Kondé and animator Ben Collier-Marsh from WeCanMake who has worked with Rob before. Cat was our musical director and chose the pieces; Cat and Joe arrange for the quintet already and we used Joe's arrangement of Schumann's Kinderszenen and the brilliant Bartók at the end! He also created a skeleton structure and bassline for our improvised scenes, while Cat composed the jazzy 'Doggywood' theme which we all had stuck in our heads for weeks afterwards!
It's certainly catchy! How did the filming actually take place?
SUZIE
_
The project was filmed in a week. We started off recording the narration and music on a fairly tight timescale and then filmed all of the group scenes on the green screen. Poppy was particularly helpful here because they were able to direct our movement in relation to the animated dogs; we had memorised almost all of the music so were free to move around. The next day we did the individual shots, the many costume changes and the scene with Mana and I upside down on the floor with our hair being wafted – all of the crazy bits!
CAT
_
The main creative part before filming week was creating an 'animatic': a rough cut of all of the animation which used adorable clip art figures of us to show where we would be placed next to the animated dogs.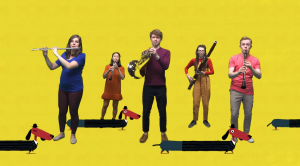 You have spoken about how Covid transformed your plans from a live show to an animated video. Were there other challenges to creating the film in lockdown?
SUZIE
_
We filmed in February half term 2021 so in full lockdown. All of the rehearsals were socially distanced and on the first morning of filming, we had to take rapid covid tests. It was a bit of a tense moment and a big relief when they were all negative!
MANA
_
I was the project producer and had to work out how it was going to be covid safe. We looked at room sizes, opened the windows (it was freezing!) and didn't face each other when we were playing. It was quite a challenge adapting to the changes and it added to the cost of the project as covid tests and larger studios for distancing are expensive. We are actually fundraising to cover the shortfall and would be very grateful for any contribution from viewers. It has been a challenging time for all of the arts and there have been lots of learning curves but also positives!
One positive of the video form is that it can reach such a wide audience online and even be shown in schools. Do you have a plan for how you would like the video to be shared further?
CAT
_
We really wanted the video to be as accessible as possible, hence the lack of charge, and particularly because of its message of celebrating diversity and inclusivity. We have ongoing plans for it to be shown in schools and with readings in libraries. The aim is to put together an education pack for teachers with musical warm up games for an interactive workshop along with the video.
That is really exciting and brings a 'live' element. We would love to ask about the dancing – it looked like you were having so much fun and encouraged viewers to join in! Did you have a choreographer?
JOE
_
It wasn't strictly choreographed! Essentially the crew played the music and Poppy just shouted at us saying "More! More! Be stupid!". Luckily we are very comfortable around each other so I could be uninhibited even in my tiny gym shorts…
MANA
_
One thing we are also very aware of as a quintet is the criticism of classical music as snobby or unfriendly and we really want to break away from that. Even in formal recitals we like to talk to audiences and slip in funny trivia into the piece introductions. I suppose dancing is an extension of that mindset!

Could you each give your favourite part of the project?
CAT
_
It has to be getting the chance to dress up as a giraffe and dance while holding the bassoon and twirling my tail!
JON
_
I really enjoyed wrecking a newspaper, it was very satisfying.
MANA
_
I loved watching the others making as much of a fool as themselves as I was! I was in charge of social media so got lots of funny shots and videos – it was good for team building!
JOE
_
The highlight was probably the release day and watching the final result. We were all so excited to see the last scene but no one had warned me of how tiny my gym shorts were – I watched it like 'oh my god!'
SUZIE
_
I loved the improv element and being able to be so creative together in a time where that has been limited.
The pandemic has definitely encouraged creatives to stick together and discover new ways of working. Do you have any advice for other musicians wanting to do multimedia projects?
MANA
_
Don't hesitate to approach people; the worst that can happen is they ignore your email or say no. When you take the first step it's amazing to see how people come together. We had the common aim of making a fun video for children and revitalising arts education in lockdown and everyone chipped in. It's important to find people who know more about what you want to do than you and don't be afraid to ask questions!
JOE
_
Also don't be put off by false starts. We had a few curveballs, slow replies and setbacks but kept persevering!
What would you like people to take away most from the video?
JON
_
I would like people to feel warm and fuzzy!
JOE
_
The message of tolerance and celebrating diversity is so important. The genius of Rob's story is how sensitively it is pitched to such a young age group. If any of the kids come away feeling positively about themselves or their differences even a miniscule amount I would be very happy.
CAT
_
I definitely agree. It is during these years that self-awareness develops in kids so it is very important for them to feel uninhibited and comfortable with who they are.
Finally, could you each sum up the video in one word?
JON
_
Colourful!
CAT
_
Vibrant.
SUZIE
_
Original.
JOE
_
Vivid.
MANA
_
Extravaganza!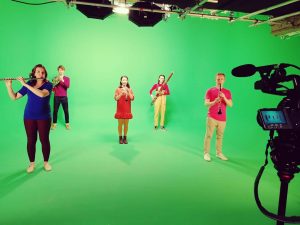 To support the 'Odd Dog Out' project, please consider making a donation to the Magnard ensemble.
---
Photography: Magnard Ensemble & P Burton-Morgan – Text: Ellen Wilkinson