meet our partner
"It started in my grandparents' living room, with my grandmother also cleaning out the pianos and doing regulation work." 
Founded in 1910 by Louis Markson, a tuner and repairer from Hull, family is key to Markson Pianos. The longstanding business is partnering with mushRoom, providing hosts with discounted services on piano tuning and rental. We head to central London to get to know them better and are greeted warmly at the door to the showroom by Simon and Noah, the third and fourth generation of the bustling shop, which can be found next to Regent's Park. We soon learn, however, that it does much more than sell pianos.
Noah: "As a business, we cover every aspect of the instrument, which is quite unusual. Customers can come to us for piano repair, rental, tuning, restoration, transport and storage. We also hire pianos for events, but that has dipped since covid, unfortunately. We used to have about 1000 concerts and events a year, but it is now around 300, would you say?"
Simon nods, seemingly unperturbed by the challenges that all specialist businesses have faced since 2020. We weave in and out of grand pianos, some shiny black, some mottled brown – "it's like Jenga!" – and pull up padded leather stools to sit on.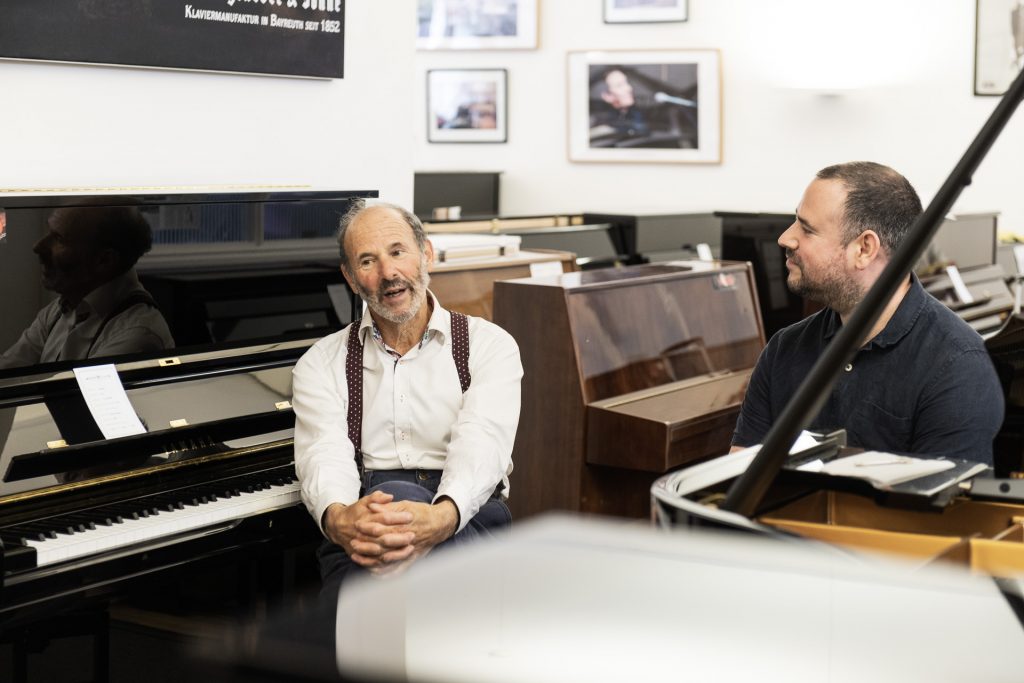 Delving further into the history of the shop, Simon explains that his grandfather's tuning and repairing services evolved into maintaining reconditioned pianos for department stores, such as Harrods, before creating his own showroom. "During the second world war, you weren't allowed to make pianos – new pianos were only allowed for army bases. Gradually, in the 50s and 60s, we evolved as a business from restoring to selling new pianos, and then became the first business to launch a hire scheme. However, maintenance and repair is still the core of the business, and we now have a workshop a few doors down."
Noah: "There are three stages to the maintenance process: cleaning, regulation and tuning. Some tuners use an app, some useful tools like a tuning fork, and some have learnt to do it by ear over many years. You lay a scale first of all, and then test each note in relation to each other. Ideally, when someone has a piano in their home it is serviced once a year – this rarely happens. A tuner should look at the hammers and check they aren't worn down, and that the regulation is even. You should also check that the piano isn't too close to a radiator, so that it is the right ambient temperature in the room, and that there aren't moths affecting the felts."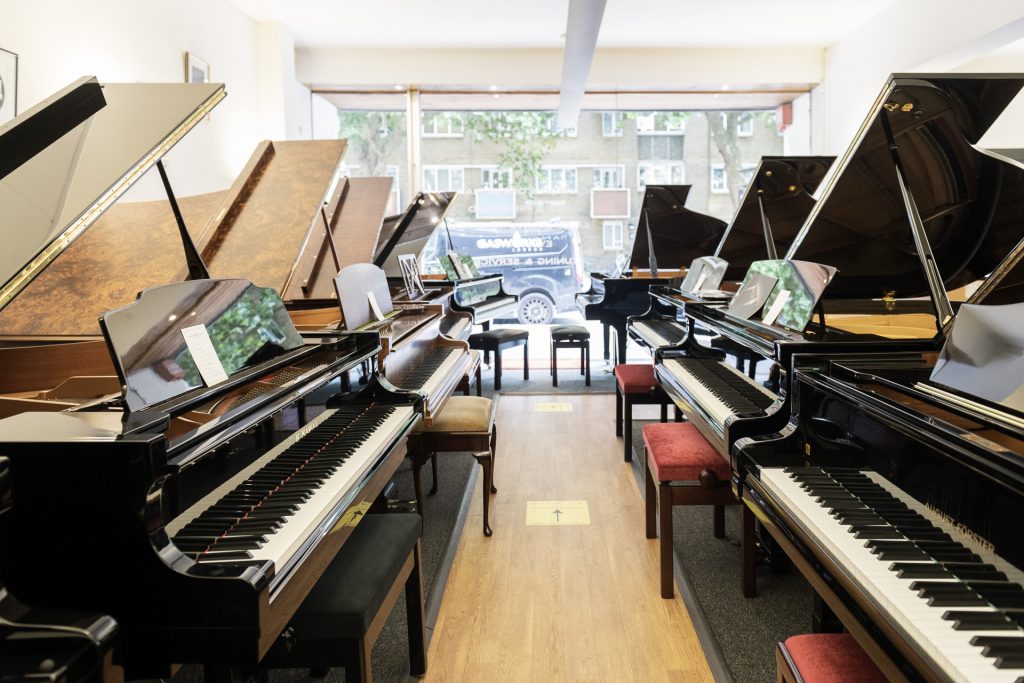 The pair's expertise is apparent, but zooming out from the technical precision is a glittering world of piano celebrity. The shop's current big project – "can we tell them this?!" Noah asks Simon, smiling – it's for the Dorchester hotel in Mayfair. The shop is restoring a glamorous mirrored grand piano, which belonged to Władziu Valentino Liberace, America's glitzy twentieth-century piano superstar. The hotel lounge is undergoing complete refurbishment and the ceiling will be mirrored, reflecting the piano centrepiece.
Simon carefully unveils the glistening instrument, on which around a third of the mosaic mirrors have needed replacing. However, he explains that transportation is the most difficult part of the job, since it is so much heavier than a normal grand. "You might come across a piano like this every sixty years or so, so it is very exciting. The hotel is going to do a press release on the instrument, and include its history and the process of our restoration."
Noah explains that the most challenging project of all was providing seven silenced pianos for the 2016 film Florence Foster Jenkins. "The crew would phone up and at the drop of a hat saying that we had to tune and move pianos, if they spontaneously changed location or schedule. Simon actually starred in the film – at 11 minutes and 30 seconds in, he played the piano tuner alongside Hugh Grant!"
Another favourite project was providing the piano for the London Symphony Orchestra at the 2012 Olympic opening ceremony, which enabled the climax to Rowan Atkinson's comedy sketch when he dropped a tissue inside it, which is still kept in the shop. There is also Markson's striking 'traffic light red' piano which, in the theme of celebrity, is often on loan to Elton John. It featured in his John Lewis 2018 Christmas advert but usually lives in the Royal Albert Hall's contemporary performance space, the Elgar Room.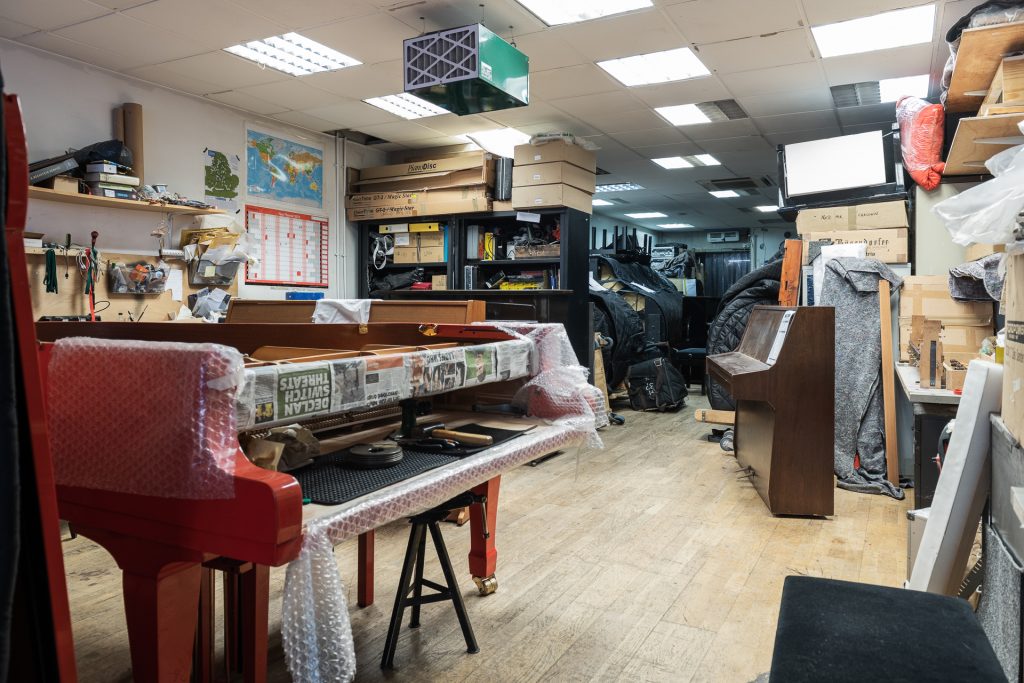 To conclude, we asked what Markson's aims are for the future. "Our very short term aim is to clear one warehouse and relocate pianos to the workshop. Long term, we are modernising our systems and re-building our team post covid. Our core family values remain the same but we aim to go out and make new community connections, such as the partnership with mushRoom, rather than resting on our laurels. That is our ethos, I suppose."

As we navigate an exit route, Simon proudly points out various star instruments. Each has a label signifying its price, maker, and country of origin. We are struck by their internationalism: France, Germany, Japan, Switzerland… What started as a family living room workshop over a century ago now gathers the finest pianos from all corners of the globe, building a diverse community which provides the tools for musical excellence. Simon assures me as we make it to the door that it is always essential that the customer is happy, since reputation sustains you when all else fails. Despite the 8000 component parts in a piano, there is never a problem that Markson won't endeavour to solve.
Click the button below to find out more about our partnership