meet the musicians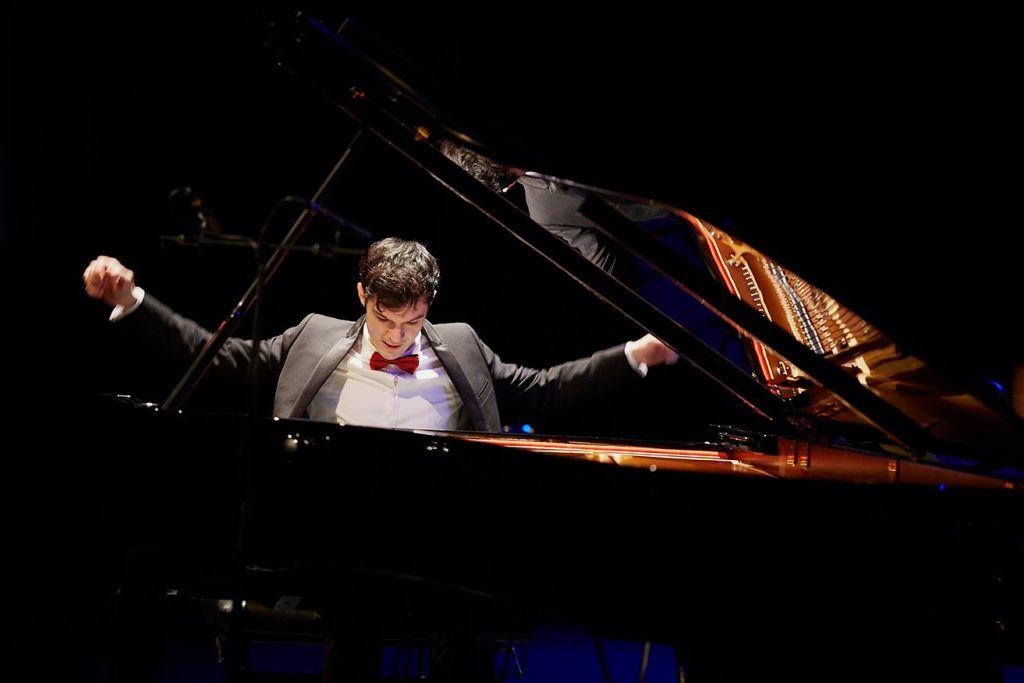 "Practising at mushRoom provides a sense of calm and focus, which can be hard to find."
George Todica's love for the piano was ignited at the age of five when he heard his older brothers practising around his musical home in the culturally rich city of Iași, Romania. Having completed an Artist Diploma degree at the Royal College of Music, George is establishing himself as a versatile and forward-thinking artist, with a self-produced solo piano album, three albums alongside soprano Charlotte Hoather and several international prizes to his name. He is also a member of the Chloé piano trio, alongside violinist Maria Gîlicel and cellist Jobine Siekman; the group formed at the RCM and their elegant name is a nod to Ravel's Daphnis et Chloé suite. The trio focuses on playing music by female composers and was recently awarded the Royal Philharmonic Society Chamber Ensemble award. On a sunny day in June, we met George in a cosy corner of bustling Borough Market to chat about his experience of the mushRoom music community and how the service has helped him as a young professional pianist.
What has been your journey with the piano and music?
George
_
I am from Iași, a town in the northeast of Romania, and I have been a musician all my life. I come from a musical family as my dad plays the saxophone and my older brothers play the piano, so I was attracted to the instrument from an early age. I started playing when I was five and was successful at competitions early on, which gave me the confidence to decide that music was what I really wanted to do. At the age of seventeen, I moved to Edinburgh for sixth form because I received a scholarship specifically for Romanian musicians at Stewart Melville's College. I then studied at the Royal Conservatoire of Scotland; I was studying in Glasgow for seven years and it was such a fun city, but I am glad to be in London now. I recently completed a one-year artist diploma at the Royal College of Music and now I am a graduate exploring the London music scene!
How did you find out about mushRoom?
George
_
The service was recommended to me by my friend and colleague Jobine Siekman. She is the cellist in my piano trio and had used George's room a couple of weeks prior for a recording session. She thought I might enjoy the grand piano and I did!
Now you have become one of our most regular users, tell us about how you use mushRoom?
George
_
I started using George's room in April 2021 when all of the practice rooms and piano shops were still shut down. mushRoom was the only available service and it was recommended to me by a friend. I had had such a long period in lockdown with no performances and I couldn't go straight from playing on my upright piano to a concert. As a solo pianist, I need a high-quality instrument and the room's Steinway Model B is in superb condition. I generally now use the room several times in the run-up to a concert.
What do you like about mushRoom?
George
_
As a working young professional musician, I no longer have access to practice space at a conservatoire so mushRoom is ideal for me. I am very grateful for my upright at home (I used to have a digital piano!) but I need to use a grand piano at least a couple of times before a performance. The quality of the instrument is also a huge bonus since having an average grand piano is not always enough, and can do more harm than good… mushRoom is also very convenient because I teach near South Kensington so I can book a quick hourly session to fit some practice in around that. I also use it for more extended periods, usually up to three hours at a time.
How do you find going into someone's home to practise?
George
_
Currently, I've only booked George's room, and it has been great. I didn't know what to expect but he is really lovely and he organised everything. He was very welcoming but he didn't stay for too long so I could get on with work. It can be a concern if you are going into someone's home that it is awkward, but he let me get on with work and provided water when I needed it.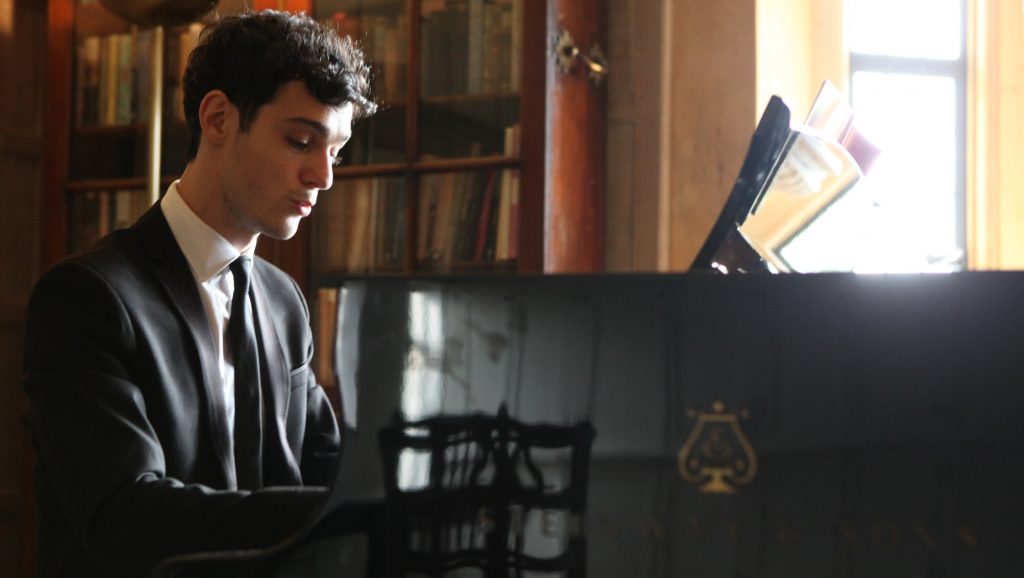 Amazing! We came across your album 'Songs from our balcony'; where did that idea come from?
George
_
My wife, Charlotte Hoather, is a singer and we moved to a place in Greenwich four months before covid happened. When everything stopped we kept seeing videos of people singing on balconies in Italy and we thought that we should do something similar. The initial idea wasn't ours – there were a few musicians in our building complex that suggested we play together one night on our balconies. The first night, nobody showed up! Then we did a few songs as a duet and loads of people came! We put on a series of seventeen concerts from March to June 2020. The biggest hits were Somewhere Over the Rainbow and Somewhere from West Side Story. We tried to theme the concerts, so sometimes we would play all German composers or even a Disney medley! In the end, we made a CD out of the highlights because people wanted to support us as musicians in lockdown.
That sounds like a productive lockdown! What are your musical aims for the future?
George
_
Concerts have started up again which is great; for the main part I am a solo performer but I do a lot of chamber music with my trio and I like to have a mix. I plan to keep going and keep enriching my life with music.
Do you have a favourite composer?
George
_
I think the philosophical answer to that is whoever I am playing at the moment. Currently, I really enjoy Scriabin and Rachmaninoff because I like thick textures that have lots of layers to discover.
Where could we find you when you are not playing the piano?
George
_
Probably tending to my plants or trying to DIY something in the flat.
Finally, would you recommend mushRoom to a friend?
George
_
Totally! The advantage of mushRoom over a regular piano shop is that it feels intimate and there aren't twenty other pianos around. Even though rooms in shops are fairly insulated, you can still feel the distracting, busy atmosphere. Practising at mushRoom provides a sense of calm and focus, which can be hard to find.
Follow George Todica's performances on his official website.