London Host / Classical Flautist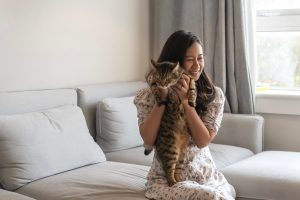 "I would be very happy if there was someone practising in my living room – then my home would be alive with music."
For professional musician Vicky, music has been an integral part of her life from an early age. Vicky moved to London from her native Taipei in Taiwan to study flute and piano, graduating from the Royal Academy of Music in 2013. Vicky's childhood piano now lives with her and her own family in North London's Swiss Cottage, making it the perfect place for pianists, acoustic duos and solo musicians to practice, compose and play.
Vicky, how would you describe your music room?
VICKY
—
My place is very central; it's a spacious room with lots of daylight. If you come over, you might find my cat sniffing around, looking to make new friends.
Sounds like a cosy space!
VICKY
—
Yes, indeed. I love the place, it's mostly where I practise my flute.
What music are you involved in outside of the home?


VICKY
—
Myself and a guitarist friend are currently rehearsing lots of duets as we have a concert coming up based around Brasilia Choros. I'm also part of a trio – piano, violin and flute – that's performing in the same concert. I've also performed on the street before with my guitarist. We have a recording session coming up as well that we're very excited about!
What sort of musicians are you hoping will make use of your room?
VICKY
—
Mainly classical I guess, since I don't have any amplification, but I love jazz and blues as well. Any kind of unplugged music would be welcomed.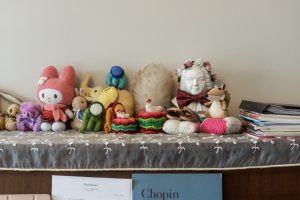 What kind of music and musicians do you most enjoy and admire?
VICKY
—
I admire Chopin. I enjoy playing his compositions on the piano, very much. I play Impromptus and Nocturnes all the time. I visited Père Lachaise cemetery in Paris recently to pay my respects. The cemetery is famous for housing a number of great musicians. As well as Chopin, Rossini and Bizet are buried there. For music, as I'm working on a duet with my guitarist at the moment, we are enjoying playing Brazilian Choro.
As a musician, have you experienced difficulty finding rehearsal spaces?
VICKY
—
When I was studying at the academy years ago I found it very difficult to find a rehearsal room because there are around a thousand students and but only about 100 practice rooms. I suspect mushRoom will be very useful to music students. At the academy, you were only allowed to book practice rooms for up to four hours maximum per day – with a two-hour limit each time.
You also had to queue up as early as 7 AM to book certain rooms. I found that to be very challenging. Also, as a flautist, I often need to rehearse with a pianist for recitals and ensembles, so I think mushRoom would really help musicians like me a lot.
Can you tell us a bit about your piano? You mentioned it was shipped from Taiwan?
VICKY
—
My parents got this Yamaha U3 piano for me when I was around ten years old. I was extremely grateful at the time. When I moved to London for University, I wanted to get a piano but I couldn't find anything I really liked so I asked my parents to ship it here. It's in very good condition; the tone is very sweet and soft and I love it so much.
What inspired you to join mushRoom?
VICKY
—
I would be very happy if there was someone practising in my living room – then my home would be alive with music. I think that would be a wonderful thing. After college, I found that a lot of my pianist friends – even if they have a digital piano – aren't able to practice much at home because of neighbours or flatmates not liking the 'noise'. Personally, I like it, even if I am practising myself next door. It feels like going back to the academy. I really, really enjoy that…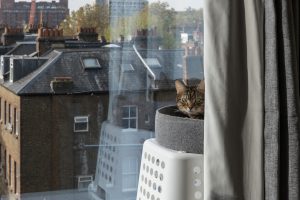 Does your cat like music as well?
VICKY
—
She used to hide when I was practising but now she loves it. She sometimes comes and falls asleep where I'm playing.
What are your hopes and expectations around being a mushRoom host?
VICKY
—
I hope to meet new musicians and maybe even play together one day. I think that would be a wonderful thing. The acoustics in my room is not too echo-ey or too dry so I think it's a perfect space. It also works for recording. We sometimes record videos here of our flute and guitar duets. I think it's an ideal space for musicians to rehearse and play in.
A home space can be as good as a commercial studio space!
VICKY
—
Yes, and it's good that it's quite spacious. Sometimes, I have had a few friends around where we have had a few jam sessions. It was like a small house concert. People really enjoyed that. I hope to have more of that…
Apart from practising music, what else do you enjoy?
VICKY
—
I like to visit the ballet, Brazilian Choro(watch Vicky's performance here) jamming sessions and playing flute with my guitarist on the street near South Kensington. I like baking as well, so maybe if you come round to practice one day I'll have some cakes for you!
Book Vicky's bright and comfy piano room here
---
Photography: Simon Hsien-Chi Wan