London Host / Classical Pianist
"I really want to be a part of it (mushRoom) because I want to get to know other musicians that are around me… It was lovely to meet someone who has music as a hobby. They love it so much and it means so much to them – it was really nice to see. "
Lewis Kesterton has one of the best panoramic views of the capital we've seen in a while. Twelve floors up, on a clear day you can see forever – from Wembley Stadium to all the high rise landmarks you can shake a Shard at. It's the perfect location for getting lost in music. A classical pianist and music teacher himself, Lewis has created a tranquil corner for his Yamaha C2X grand piano to reside, alongside his adorable black cat, Figaro. We recently paid a visit to Lewis's North Acton home on a bright crispy February afternoon; when we turned the corner and saw the name of the building, we laughed out loud. The Rehearsal Rooms building is named in tribute to its previous incarnation as the BBC Television Rehearsal Studios, having once been the practice space for many BBC classic shows, from Absolutely Fabulous to Fawlty Towers. Could this place be more perfect?
Lewis, we've noticed that you live in a building that's called Rehearsal Rooms. Did that factor in to your decision to move here?
LEWIS
—
Complete coincidence. And it's also a coincidence that we happen to be in flat 88 and the piano has 88 keys… (laughter)
It must be fate. Can you tell us a bit about your room and piano? It sounds really 'crisp' in here…
LEWIS
—
It's a very dry acoustic which is especially good for personal practice, because you can really hear yourself and everything that you're doing. And it's not boomy at all so it's good for recording. A little while ago I had someone come here and record for BBC Radio 3 New Generation Artists…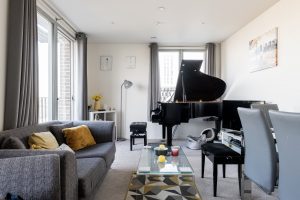 It also seems like a really quiet building…
LEWIS
—
They're really well-soundproofed flats so you don't really hear anybody. You can hear the piano in the corridor but not in other flats.
How long have you had this piano?
LEWIS
—
Not long. I'm very fortunate to have it. When I first moved to London, just over 18 months ago, I started studying at the London College of Music in Ealing – and I made really good friends with one of the masters' students. She's from the US and had been studying in the UK for a couple of years. She's a Young Steinway Artist, with a Steinway back home, but when she moved here she needed a piano to work on, so she bought this one. After a while, she decided it was time to have her Steinway shipped over, but wanted this one to go to a good home so…

You got a deal! Do you play any other instruments besides the piano?
LEWIS
—
I used to be a brass player. I played the cornet in a brass band. I started that about the same time I started the piano but eventually the piano won out.
You've been a musician from an early age. When did you realise (or decide) that music would be a big part of your life?
LEWIS
—
I always loved music. Especially in school assemblies, I'd be fascinated by them playing the piano. And my sister's a musician as well – she played the oboe – and that inspired me too. I always wanted to play the piano but my parents said, "start with something else first." So I had about three weeks worth of violin lessons, which was a complete disaster. Eventually, they conceded to let me have piano lessons when I was seven.
Do you perform in public often?
LEWIS
—
I'm still studying – I'm currently at Trinity Laban in my third year as an undergraduate so that's taking over at the moment. I haven't been performing much recently but I performed quite a bit in the summer last year and I'm hoping to again this year.
We know that you used to sing in the choir, do you still like to sing?
LEWIS
—
I did enjoy it. I was in the Hallé Choir when I was living in the north – that was really fun. I really enjoyed that.

What do you enjoy most about teaching?
LEWIS
—
I do a lot of teaching; that's the biggest part of my career at the moment. Being able to pass on the different skills and knowledge that I've absorbed over the years, especially from my own teachers. I think that's the best thing about it. All of the teachers I've had have been very good in different ways. Until relatively recently though, I lacked a solid technical grounding, which I'm still working on with my current teacher, Penelope Roskell. It's nice now to make sure that people have those foundations to begin with, so they don't develop any bad habits or any injuries.
Can you tell us a bit about the "pedagogical techniques" you developed that are mentioned in your online bio?
LEWIS
—
It's nothing specific really, it's just the way that I teach. I like to think that I'm quite adaptive as a teacher. Obviously I have this set of skills that I use with everybody but I feel like for each individual student I'm a slightly different teacher, if that makes sense. 'Pedagogical techniques' refers to what I was talking about before – making sure that they have good foundations. For instance, lots of teachers don't teach you about arm weight when you're playing the piano, so that's one of the things I like to introduce straight away – even with small children. So instead of pushing into the keys, you use the natural weight of your arm to support your fingers, which helps you create a bigger sound without being harsh.
Do you have a favourite period of music that you like to play and/or listen to?
LEWIS
—
I'm quite open-minded. I haven't explored as much repertoire over the years as a lot of people so I'm still trying to discover what I like. I haven't really not enjoyed playing anybody – apart from Shostakovich – I didn't really enjoy playing that.
What about Figaro, your cat. Does he like to listen to you play?
LEWIS
—
Figaro actually loves the piano! When I start practising in the morning he usually comes running and launches himself into the beanbag under the piano – he stays there for at least an hour sleeping whilst I work!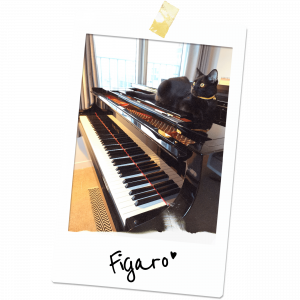 What are you hoping for from being part of the mushRoom community? Who would be your ideal guest?
LEWIS
—
I really want to be a part of it because I want to get to know other musicians that are around me. It was really nice when the first lady to come here came to play the piano in her spare time. It was lovely to meet someone who has music as a hobby. They love it so much and it means so much to them – it was really nice to see. I don't know what my ideal guest would be like – anybody as long as they're friendly.
Can you imagine yourself sourcing a mushRoom host/rehearsal space?
LEWIS
—
Lewis: Probably, yes. I'm really fortunate to have this space but if I was perhaps rehearsing with a bigger group, say , for instance, it was a piano trio. It would be nice to rehearse even just a couple of times in a bigger space – that would be useful.
Do you and your sister ever play together; did you ever do that?
LEWIS
—
Unfortunately not. I keep trying to get her to. She's much more academic than me; she's just finished her PhD so she's not really been playing very much. She also does children's art in her spare time so we're thinking about possibly collaborating on something to do with that – maybe a music teaching book for children or something.
Finally – do you have any shows/releases coming up that we can tell everyone about?
LEWIS
—
Hopefully in the summer – usually it's solo things although occasionally it's a piano duo. I've been trying to get a friend to do a joint recital this year – so both solo, but together.
Book Lewis' bright and comfy piano room here
---
Photography: Simon Hsien-Chi Wan