meet the hosts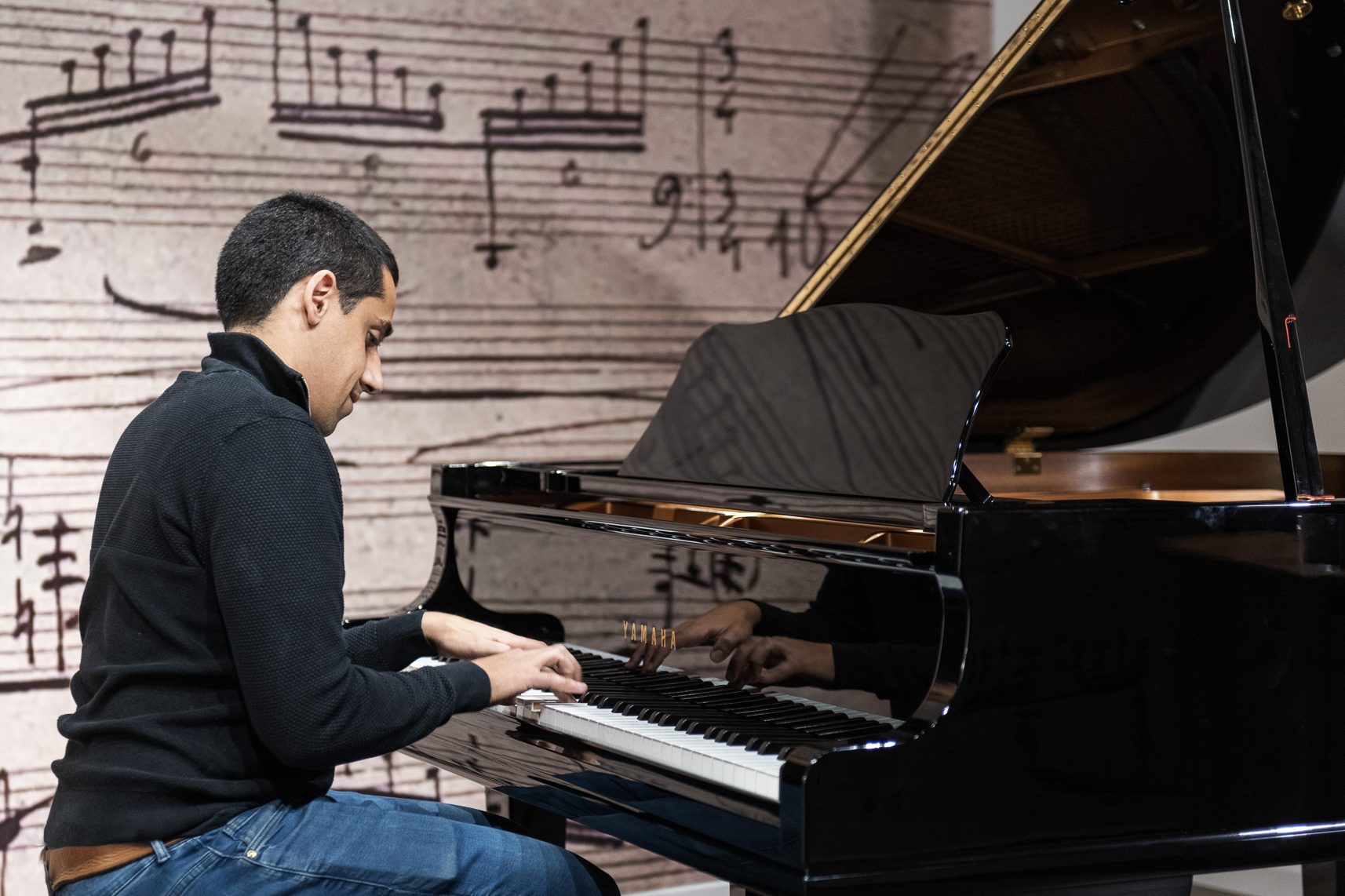 "A big inspiration for the hub is connecting adult learners or people who aren't part of the conservatoire world, and allowing them to meet different musicians. We host monthly piano meet-up groups and recitals, which are a great place for all kinds of musicians to connect. "
It is not every day that you smell the repairing of designer shoes, handbags and jackets when entering your practice space. Tucked into the foot of Twickenham's striking Richmond Bridge is an unlikely pairing of services: a third generation family leather shop and an innovative musical hub, the Gaspard Music Academy.
The common factor? Elia Stavrou, a pianist and the creator of the Academy, which boasts a recording and performing studio, a piano practice room, and a summery outdoor space.
Elia did not go down a pianist's typical conservatoire route, but his drive to perform and connect musicians from all backgrounds led him to converting the space at the back of his family's leather shop, Richmond leatherworks, into a hive of musical activity, including monthly piano meet-ups and regular recitals. Elia has also recently become a mushRoom host, and we wanted to find out more about his journey with music and what his aims are for the future of Gaspard.
Could you describe your musical hub, the Gaspard Music Academy – what was the inspiration behind its creation?
ELIA
_
During lockdown, I had the idea to create an area where I could have to get away and work on my music – I am a classical pianist and still do three or four hours of practice a day. I had space in the back of my family's leather shop, and it all evolved from there. We have a larger studio with a Yamaha grand piano, which I use for recording, teaching and performing, and a smaller practice room with an upright piano, which can be booked separately on mushRoom.
A big inspiration for the hub is connecting adult learners or people who aren't part of the conservatoire world, and allowing them to meet different musicians. We host monthly piano meet-up groups and recitals, which are a great place for all kinds of musicians to connect.
What is the aim for the future of the hub?
ELIA
_
I have just started teaching piano a couple of weeks ago here, and have a few other piano teachers interested. I would eventually like to turn it into an Academy and have lessons going on in the week. I would also love to build on our piano meet up groups and monthly concerts. In general, we want to provide a nice and accessible space for musicians to use.
Why did you want to be a part of mushRoom? How has the experience been so far?
ELIA
_
I want to get the Gaspard Academy into as many places as possible and thought the mushRoom website looked very slick and easy to use. I also saw that mushRoom includes venues that I have performed at before!
I have had quite a few bookings now and being a mushRoom host has been a very positive experience so far. The bookings are actually mostly students from conservatoires who can't get rehearsal rooms and find our space instead.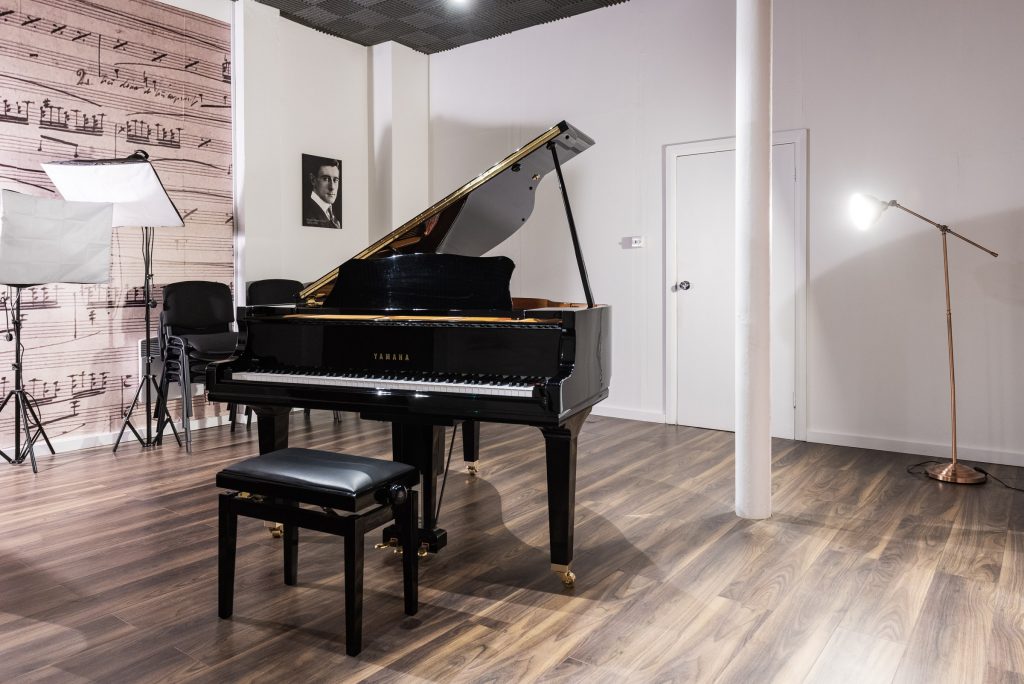 What has your musical journey been like?
ELIA
_
I didn't go down the normal conservatoire route. I went to the London College of Music in Ealing at age fourteen or fifteen, and started piano lessons there. I also got my music GCSE at LCM because I was home-schooled. My teacher could see that I was dedicated and that I really loved it, and he taught me how to memorise and it kicked off from there. I am still with the same teacher to this day, fifteen years later!
I am quite conscientious and proactive – I like finding and booking venues, and constantly badgering people to perform. A few people gave me the opportunity and it developed from there. I work in the family leather shop and enjoy balancing that alongside the piano.
Is the leather shop near to the studio? Could you tell us more about the business?
ELIA
_
It is right at the back of it! We have a separate entrance in the adjacent road, and the studio is completely soundproofed. We are third generation shoe repairers, and also sell bags, purses and other items. We are finding now that people don't want to buy new leather, they want to maintain the leather that they have bought previously, which is more sustainable. It's quite a creative trade.
That is really interesting. You recorded your album Pieces of Reflection in the space. Could you tell us more about that?
ELIA
_
That was during the lockdowns when obviously all my concerts had been cancelled. We were all sat at home twiddling our thumbs and I wanted to revise pieces that I loved, and that were quite chilled. The album is full of pieces I revised or learnt during the lockdown and are slower works, like nocturnes.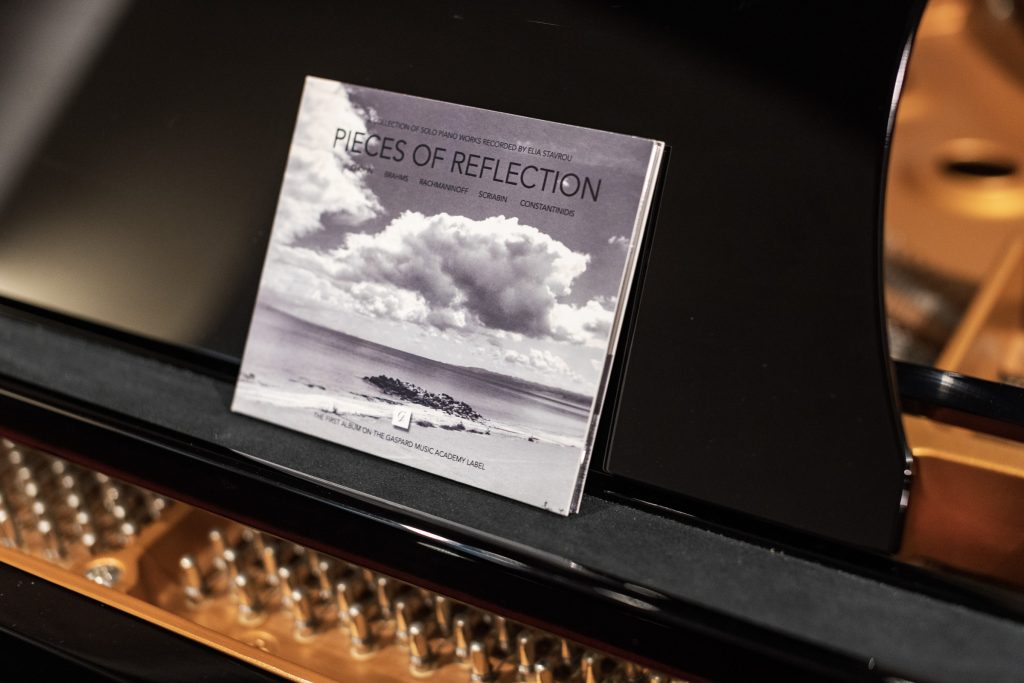 Who is your favourite composer to play, and do you have an inspirational album or piece of music?
ELIA
__
I really like playing Chopin and Debussy. I never went out of my way to listen to Debussy because some of his music is quite conceptual, but now I have studied it, I have a real passion for it.

The studio is named after Maurice Ravel's Gaspard de la Nuit, which is notoriously the most difficult set of piano pieces ever written. Since I have performed them a few times and haven't gone down the traditional musical route, I thought it was appropriate to name the space Gaspard Music Academy. That would have to be my top pick!
Book Elia's Gaspard Music Academy here